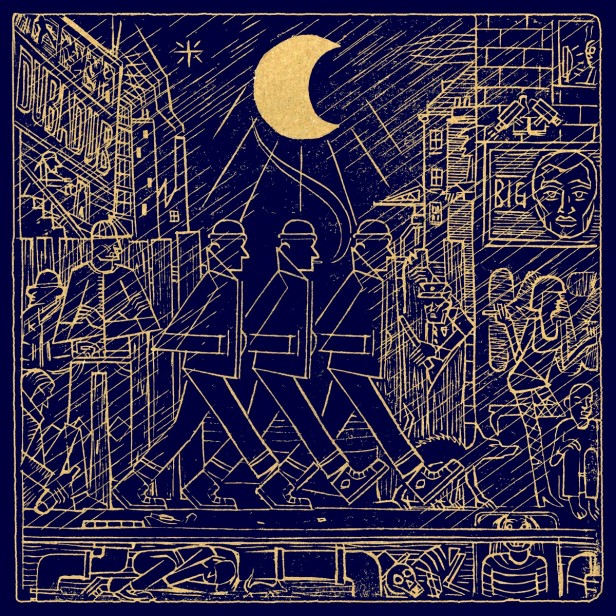 http://standhighpatrol.comhttps://www.myspace.com/standhighsoundsystemOrigine du Groupe : FranceStyle : Rub a Dub , Reggae 8-BitsSortie : 2012Par Niz pour http://www.nizetch.fr
Stand High a sortit un nouvel album "Midnight Walkers", analyse :
Je ne pense pas nécessaire de faire une présentation du Stand High Crew, mais au cas ou vous ayez hiberné pendant quelques années ou que vous reveniez du futur pour lire cet article, je vais m'y
coller.
Stand High, c'est 3 membres MAC Gyver , Rootystep et bien sûr Pupajim le MC. C'est d'ailleurs par la voix de Pupajim et ce style si particulier entre toast et rubadub qu'est né le « dubadub » [1]
style si cher au crew breton. Pupajim qui est, d'ailleurs, plébiscité par le public à même l'honneur d'être joué sur certaines radios dont Radio Nova et apparaît comme le moteur visible du crew.
Mais Stand High c'est aussi et surtout une bande de déchaînés, toujours prêt à « pull-uper » [2] une tune et mettre le feu à une soirée qui s'enfonce dans la moiteur de la nuit. Stand High c'est
aussi un « sound system » sans sono… les représentants les plus emblématique de la nouvelle scène, celle des djeuns avec des casquettes américaine avec l'étiquette encore collée dessus, des
blousons de ski en plastique bleu fluo des années 80, des lunettes à la P. Manœuvre, des grosses envie de jumper à la moindre tune; c'est une scène qui attire un nouveau public, pas forcément
attaché aux valeurs originelles du dub, mais plus à faire la fête à fond, a kiffer le son et les grosses basses; un public plus orienté club...
Pour finir Stand High c'est 10 ans à poser du son en soirée et cinq maxi: "Business of War", "Hey Georges", "Dubadub Definition", "Amplifier" et "Mr Bossman"; Tous ou presque sont sold out et
maintenant Stand High c'est un album : "Midnight Walkers".
Ce nouvel album qui est disponible depuis la fin janvier en LP/CD et digital semble être un nouveau commencement pour les Bretons qui après avoir pas mal écumé les sound systèmes français ont
voulu poser du contenu en studio. Le crew a des influences plus que nombreuses et diverses; bien sûr le dub des origines mais aussi la new wave, la bass music au sens général et même une petite
dose de hip-hop. Ce melting pot d'influences a pour conséquence de proposer une musique qui n'a plus grand chose à voir avec le dub au sens stricto senso même si on retrouve un esprit de
défricheurs et de bidouilleurs...
Assez proche du label allemand Jahtari ils creusent le même sillon d'une musique aux influences dub en proposant une version différente du reggae. Jahtari et disrupt l'on fait par leur approche «
chip-tune » les Stand High emboîtent le pas avec des influences plus new wave parfumées au dub a dub.
Ils chamboulent les codes d'une musique souvent enfermée dans des lyrics militant où le rasta que nous ne somme pas tous, ne se reconnaît pas forcément. Attention, nous ne disons pas que les
Stand High n'ont rien à dire que leurs lyrics sont tous légers. Certes par moment, l'ambiance est bonne enfant et le fond des textes n'est pas très profond. Ils racontent plus facilement leur
"légende" et leurs soirées que la souffrance du monde. C'est une question de point de vue. Cependant certains morceaux marient avec brio une musicalité moderne, convaincante et un texte traitant
d'actualité : « Boat People » par exemple qui fait le constat d'une certaine dissymétrie de traitement aux frontières en riches et pauvres. Le coté assez léger de certains textes comme le « The
Bar » nous rappellera, un autre groupe français qui utilisait aussi le dub a dub avec brio mais en occitan, je veux bien évidement parler des Massilia Sound System qui dans leurs textes
revendiquent une envie démesurée de mettre le oaï ! Une vision de la fête que, je pense, partagent les brestois nous le verrons plus loin dans l'album. Quoi qu'il en soit au niveau des lyrics, on
a systématiquement le droit à des instrumentaux efficaces, léchés à la perfection pour proposer toujours une musique entraînante et novatrice.
Plus loin dans l'album, on retrouve avec un peu de surprise deux morceaux très hip-hop old school. On ne connaissait pas les Stand High dans ce registre mais « Muskateer Sword » et « Home made »
aux intrus minimalistes et aux textes auto-centrés parlent du crew, de leurs aventures… on y retrouvera des influences ou des clins d'œil au Hip-Hop américain de l'époque de Grand Master Flash et
du courant de la fin des années 80… assez déconcertant mais très bien réalisé.
Le disque avance et le meilleur arrive avec des tunes digitales comme savent si bien le faire les Stand High : « The Big Tree » un ôde à un arbre, est un sublime morceau introduit en accapella
pour une montée en puissance ou le flow aiguisé de Pupajim rebondit sur le riddim digital. Dans « Dub it » et « Holiday today » on sent l'ambiance des soirées « dubadub residance » du Vauban avec
des morceaux entre dub steppa et électro avec une pointe de new wave; synthétiques, percussifs, répétitifs, et dansants, ils revigorent cette fin d'album. On enchaîne par « Speaker Box », un mix
qui gratte, dirty style, découpé sur un riddim steppa militaire avec une basse pachydermique puis vient « Automatic Attack » expérimentation sonore qui finit sur une explosion très clubbing…
On ne pouvait pas en attendre moins des Stand High, ils produisent une musique étiquetée dub mais n'en ont plus (ou pas) la fibre… j'entends déjà les vieux de la vieille crier au scandale : "De
mon temps le dub c'était différent". "On sait, ils sont comme ça, les jeunes de nos nos jours, ils se jouent des codes et ne respectent plus rien". Certes pas besoin d'être rasta et d'avoir des
dreads pour kiffer et faire cette musique les Stand High l'ont bien compris. Par contre le dub est mis de coté, l'utilisation d'effets est minimale, les codes du genre sont très discrets et à
notre avis le crew fait un pas de plus vers une musique de club. On retrouve les Stand High dans une position assez ambiguë à la limite schizo, entre dub et club, tunes posées et travaillées et
tunes orientées dancefloor, une production entre prod de sound et album studio. Ça resemble au début d'une transition, ou les bretons tenterons de maintenir leur public de base avec des maxis
vinyls plus sérieux du genre de Frequencies que Pupajim avait fait avec King Midas et tenterons de convaincre un public moins acquis au milieu du dub; beau pari...
Au final l'album est très dansant et va fédérer les dubbers et les clubbers sur certains morceaux, plaire aux amateurs de nouveaux sons ainsi qu'aux aficionados du crew; mais en tout les cas il
va cartonner, c'est sur tout simplement parce que les Stand High sont une machine à tube !
Tracklist :
01 - Commando
02 - Brest bay
03 - Boat people
04 - The bar
05 - Midnight walkers
06 - Entertainer
07 - Muskateer sword
08 - The big tree
09 - Home made
10 - Dub it
11 - Holiday today
12 - Speaker box
13 - Automatic attack
LINKS REMOVE LABEL RECORS REQUEST PEACE